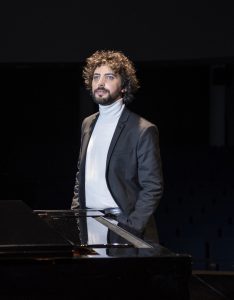 Daniele Leoni was born in 1988 in Modena, Italy. The piano world has fascinated him since he was a child and he devoted himself to its study, with inclination and passion, under the guide of Master Roberto Guerra. Admitted to the Conservatorium of Ferrara, where he joined the academic community, he pursued his formation in the class by Master Adriano Cirillo and in 2013, Daniele Leoni obtained the piano diploma full marks and started his career as artist and teacher.
The chosen path is the musical career but this did not prevent him from attending the Natural Sciences degree course at the same time and in 2013 he graduated at the University of Modena. In 2014 he has given life to a piano-voice duo with the singer Elisa Esposito, with the intent to revisit Pop music in a completely new key, combining popularity with a polished style. For over 3 years, Duo Enigma has exhibited in the contexts of different cities of Northern Italy.
With the pianist A. Carri and F. Mantovani, he has carried out the project Pedala piano, born from the original idea of some young artists to realize a two-wheel piano, going around Italy (the 1st October 2016 the three pianists inaugurated the prestigious Verdi Festival, performing in the square in front of Teatro Regio, in Parma).
The 1st September 2015 represents a very important date for his career as pianist and composer due to the publication of his first album as piano solo, Piccoli Segreti, presented in a 18-dates-tour in the cities of Milan, Modena, Reggio Emilia, Bologna, Pistoia, Naples, Lecce and Taranto.
He has been exhibiting for three years, all around Italy as versatile pianist, in concerts ranging from the classical to the modern music (among which different crowd-pulling concerts as classic pianist, held for different and prestigious cultural associations, as the Rotary Club and Lions Club). He took part as host by many radiophonic transmissions, such as Radio 2 (of the national broadcaster RAI), Radio San Luchino and Radiamo.
The 21st March 2017 his second album Sogni allo specchio was published, which led him to a new tour in theatres and cultural salons of many Italian cities, among which Milan, Naples, Bologna, Modena, Reggio Emilia and Trento, and in Elba Island.
In 2016 he published a collection of piano scores for young pianists with the title Profumo d'incanto.
His musical formation is still in progress with the participation to annual masterclasses held by international teachers (recently, he participated to those by the Masters Irene Veneziano – 2014; Alessandro Taverna – 2015; Marcello Pennuto – 2016; Leonardo Locatelli – 2017; Tiziano Poli – 2018; Adriano Cirillo – 2019).
He has devoted himself to the teaching activity since many years: he undertakes musical projects in the primary schools and hold piano courses in Modena, addressed to children, boys and adults. The strong teaching spirit that animates him led him to realize a new project: the Panteropoli Studio, a school which embraces anyone who wants to dedicate to the study of different musical disciplines.
On 21st of february, 2020 he published a new album, "Dewdrop", his third collection of original piano scores.
Since his first album in 2015 Daniele's music reached on Spotify 8.1 millions listening from 78 countries around the world.
In 2020 he got the Master in "Didactics and skills in music education sciences" with a score of 8.6 out of 10.
In 2020 he made 3 compositions for the New York Times that became the soundtrack of "The Outlaw Ocean: Crime and Survival in the Last Untamed Frontier", the reportage by journalist Ian Urbina.
"Talking about music is like talking about architecture", as Frank Zappa said, are the words that give his idea voice.